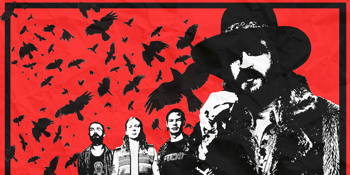 Jack Harlon & The Dead Crows
Mountains of Madness + Glitch Craft
Saturday, 16 July 2022 7:00 pm
Melbourne-based psych doom project JACK HARLON & THE DEAD CROWS return to Tasmania for one show only with local guests MOUNTAINS OF MADNESS and GLITCH CRAFT.

Blasting to number 11 on the 2021 International Doom Chart with their sold out album THE MAGNETIC RIDGE (released on Hobart's own record label PSYCHEDELIC SALAD), the band has been quoted as being "the perfect soundtrack for a trip through the desert after a generous intake of peyote".

Immerse yourself in epic doom, stoner and psych fuzz July 16 at Altar.
Happy Birthday Sawf!

With thanks to YOUR MATE Bookings and all involved.