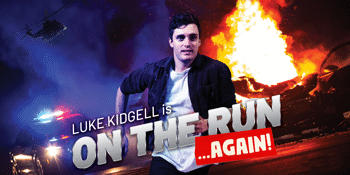 Luke Kidgell
Tuesday, 21 September 2021 7:00 pm
With three national tours under his belt, Luke Kidgell has amassed over 500,000 fans online, has two of the most popular comedy podcasts in the country, and a special on Amazon Prime. It's almost unfair that his body is a work of art. And now this weapon is coming to Hobart!

It is simply undeniable that Luke Kidgell is one of the most physically elite and humble comedians in the country. He is also pretty funny too. But most people just know him for his mouth-watering rig.

When Luke returned to comedy after lockdown his life was turned upside down. He went and tried out some new jokes and what happened next would change his life forever. He straight up killed... like murdered, even harder than he usually does with jokes so killer that he had to become a fugitive. So don't miss out on seeing this absolute renegade, before he gets locked up, because in 2021, Luke Kidgell is On The Run.