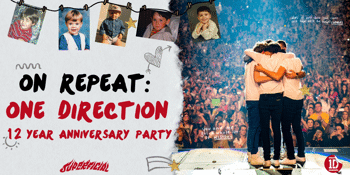 One Direction | 12 Year Anniversary Party
Saturday, 3 September 2022 10:00 pm
WON'T YOU STAY 'TIL THE AM
ONE DIRECTION 12 YEAR ANNIVERSARY PARTY
SATURDAY SEPT 3
10PM
ALTAR
HOBART
︎
︎
︎
︎
︎
︎
︎
︎
︎
︎
︎
︎
︎
︎
︎
IT'S BEEN 12 YEARS OF ONE DIRECTION!!! On July 23, 2010 the world's greatest band were formed and the Superficial team will be throwing a party to celebrate!!!
C'MON C'MON HOBART!!! Round up Diana, Olivia and Georgia Rose and put on your Little Black Dress for a night that will make History!!
If you are Truly Madly Deeply obsessed with 1D this is the event for you!!
You & I will dance all night to the Best Song Ever and all our other One Direction faves, plus we'll play the best tunes from Harry, Zayn, Niall, Liam and Louis. One Way or Another it's going to be Perfect!
I Would get tickets soon as this event is Once in a Lifetime!!
︎
︎
︎
︎
︎
︎
︎
︎
︎
︎
︎
︎
︎
︎
︎
SOUNDS LIKE:
ONE DIRECTION x 100000, Harry Styles, Niall Horan, Zayn Malik, Liam Payne, Louis Tomlinson
︎
︎
︎
︎
︎
︎
︎
︎
︎
︎
︎
︎
︎
︎
︎
Superficial would like to acknowledge the traditional custodians of the land our events take place on and honour their Elders past, present and emerging.