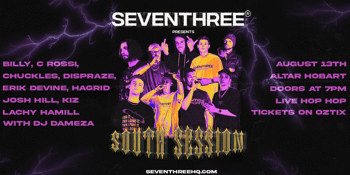 Seventhree - South Session
Saturday, 13 August 2022 7:00 pm
After a successful launch to the brand SEVENTHREE is coming back with another live hip-hop event and this time in the heart of Tasmania.
A night packed of live hip-hop music from state/nation wide supports: Billy, C Rossi, Chuckles, Dispraze, Erik Devine, Hagrid, Josh Hill, Kiz, Lachy Hamill & DJ Dameza holding it down on the decks.

SEVENTHREE'S South Session is guaranteed to bring the energy and raw talent that is rapidly growing in Tasmania's hip-hop music scene.

Limited SEVENTHREE South Session clothing drop will be sold exclusively on the night.

9 hip-hop artists, legendary DJ, exclusive clothing drop plus more to come. Come and get amongst the SEVENTHREE community that celebrates & support's local artist within our area.