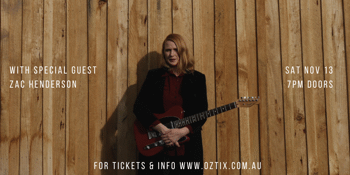 Claire Anne Taylor Band
Zac Henderson
Saturday, 13 November 2021 7:00 pm
Claire Anne Taylor, 'the possessor of a huge, powerful voice,' crafts soulful folk songs that are alternatively lush and intimately earthy. – Rhythms Magazine.

Born in a barn built by her parents in Tasmania's ancient Tarkine rainforest, Taylor's music is reflective of her wild and remote upbringing. In 2019 she won the National Live Music Award for 'The Best Live Voice in Tasmania' which is testament to the sheer magnitude and depth of her voice and the emotion she pours into each performance.

Taylor will be joined by her incredible band featuring Jethro Pickett on guitar, Louis Gill on bass and Jeremy Marcotte on drums as they present a host of new songs as well as some old bangers.

Special guest performance by Zac Henderson.