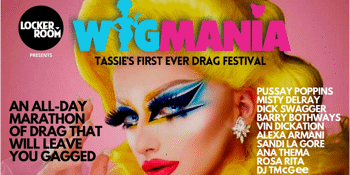 WIGMANIA
In The Hanging Garden (Hobart, TAS)
Sunday, 17 October 2021 12:00 pm
It's been a long time coming and it's finally here.
Wigmania, Tasmania's first official daytime Drag Festival has landed.

This drop-dead-gorgeous event brings together Tassie's absolute finest Drag Queens and Drag Kings, comics and camp hosts to the one stage for an amazing
5 hour dragathon that will leave you gagged gurrrrrl.

With fly DJ sets throughout the day, you'll be both dancin' and kicking back In The Hanging Garden for a day-long love affair with drag.
Plenty of seats for all or bring a picnic blanket and camp out for the arvo while the drag unfurls.

With
PUSSAY POPPINS | MISTY DEL RAY | ALEXA ARMANI |
ROSA RITA | ANA THEMA | BARRY BOTHWAYS | DICK SAVVY
VIN DICKATION | SANDIE LA GORE | DJ TMcGee + GUESTS

Proudly sponsored by Bruny Island Beer Co, Ian Gurner Dental Care, Steady Freddy and Newtown Health.