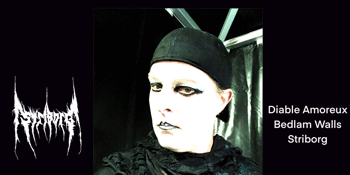 Saturday, 31 July 2021 7:00 pm
STRIBORG

Striborg originally began as a one-man black metal band in the 90s, then evolved into a DSBM band during the turn of the millennium.
In 2017 an epiphany caused the project to drop the metal entirely in favour for a more personal musical approach... blackwave. A combination of mostly darkwave music infused with the vocal style and atmosphere of black metal.


DIABLE AMOREUX

Diable Amoreux is an avant-garde / apocalyptic folk band from Tasmania, Australia. Formed in 1998, they rarely play live. Contributing members belong to such bands as Nazxul, Hermann's Horn, Striborg, Beastianity, Spear of Longinus, The Auralees, Nux Vomica, Go-Go Sapien, Injury to Eye, Subterranean, Aeroflot, Narog, and Hail Satan and the Insane Fuckers.