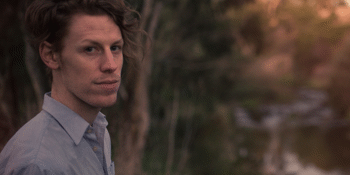 Noah Earp
Zac Henderson + Tasha Zappala
Saturday, 19 February 2022 7:00 pm
Noah Earp is a singer-songwriter originally from Melbourne. His warm baritone voice and exquisite fingerpicked guitar parts are accompanied by four-piece band including Elisse Kleiner on flute, Georgia Shine on cello and Louis Gill on bass. The songs, which alternate between folk and chamber music, feature incisive lyrics and expansive arrangements, and draw on a deep well of musical influences.

Zac Henderson is a Tasmanian based singer/songwriter who has made his mark on the Tasmanian music scene with his live performances of original soulfully rich folk music, laced in clever lyricism, wit and relatable story telling.

The tremolo-steeped folk of singer-songwriter Tasha Zappala muses of quiet wanderings and of lingering in-between. Rambles of street corner crooning, afternoons adrift and slow remembering carry the listener as the eve draws close and the sun's rays cease.